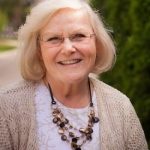 Jean Wise is a freelance writer, speaker, retreat leader and spiritual director. She is a contributing author of devotions for six compilations published by Barbour, plus the solo author for Let Every Heart Prepare Him Room, an Advent devotion (Barbour Books, 2014). She has published numerous magazine articles in magazines such as the Lutheran, Christian Communicator and public health journals. A former reporter for her local daily newspaper, she is also a graduate of CLASS and CLASS Career Coaching.
You can check out all of her books here:  healthyspirituality.org/amazon
Jean is a Deacon at St. Peter's Lutheran Church facilitating adult spiritual formation. She has an active spiritual direction practice including leading group spiritual direction. Her ministry alsoincludes an ecumenical group called the Carpenter's House that creates opportunities for spiritual growth in her rural northwest Ohio community. She is a frequent speaker for gatherings and retreats in northwest Ohio.
She writes twice a week on her blog, www.healthyspirituality.org. Established in 2009, the site includes more than 1000 posts.
Jean is a RN with her Masters in Nursing. She retired from public health in 2006 as the county health commissioner to focus on freelance speaking and writing. She discovered her calling and a passion to nurture others as she practiced nursing and now as she helps others grow closer to God in her ministry of spiritual direction, writing and speaking.
She lives in Edon, Ohio with her husband enjoying their empty nest as their three adult children have flown the coop. Jean loves books so much her hubby thinks she has too many. Jean believes if you cannot be well read, at least be well bought! Bring on more bookshelves!
Ten Things Fun Things about Me:
1. I am an INFJ personality type and a number 3 on the Enneagram.
2. I love to travel.
3. I was Band Princess my senior year in high school
4. I grew up in Canton Ohio.
5. I love storytelling.
6. I am a Disney fanatic.
7. Trees are my image for my spiritual growth – roots growing deeper into God; limbs reaching up in prayer and praise, both nourishing each other.
8. I value friendship and have quite a few lifelong friends from grade school, college and into the present.
9. I love planners, calendars, to do lists and productivity gadgets.
10.  When I was 7, I created, wrote and delivered a neighboring newspaper – a writer in the works at a young age until I felt God calling me into nursing. I love being an RN and am grateful God has open the doors in the second half of life for writing, speaking, ministry and spiritual direction.